Historical News
Ahoy!
The San Jose was part of the Spanish Treasure Fleet shipping Gold, Silver and other valuables from the Caribbean back to Spain. During the naval battle known as Wager's Action in 1708 the San Jose was sunk just off the coast of what was then called The New Kingdom of Granda but now known as Columbia, The San Jose's Cargo was never recovered.
Well now its been found ! Legal battles over who owns it aside this is an amazing find and you cant help but to be at least a little excited when somebody finds this much shipwrecked treasure!
Rundown of Wagers Action
Wager's Action - Wikipedia, the free encyclopedia
The full news story's can be found here.
'Holy grail of shipwrecks' found with $3b of treasure off Colombia
...
For years I have been searching for real blueprints for the English built Concord of 1710, she was captured by France and renamed "
La Concorde de Nantes"
in 1711
.
She was later used as a slaver until she was captured by pirate Captain
Benjamin Hornigold
in 1717. Hornigold turned her over to
Edward Teach
(better known as Blackbeard), and made him her captain. Blackbeard of course renamed the ship
Queen Anne's Revenge
, and the rest is history! We have the movie version of her in POTC, but we also need the real thing! It would be great to see her come to life in 3D!
It seems some enterprising students have managed to do just that working from real French frigate plans from the late 17'th century. Three years ago, a professor and his students from the Advanced Engineering Design & Technology...
I never know quite what I am going to find when I go to look up news to post on the front page, last night was no exception. The first story that I ran across was an article over Washingtonpost.com with the title "Dark-skinned Playmobil pirate-ship doll wearing 'slave collar' ignites outrage" well of course I had to dig in to that one. It seems Playmobile has released a pirate set with a figure the article said represented a black former slave, and included a slave collar to wear around his neck. The woman in the article was incensed that Playmobile would tell her son to put a color around a black mans neck. You can read the full story
HERE.
While I certainly do not advocate slavery in any form, either present or past, it is certainly a historical fact that needs to be kept visible and not buried under layers of political...
On Friday, June 5'th 2015, L'Hermione arrived at Yorktown, Va. Completing the opening stage of her historic voyage which began when she was conceived over 20 years ago. She was escorted in to port by the
USS Mitscher
, an Arleigh Burke class US destroyer. She was also greeted by an American aircraft carrier as she arrived in US waters a couple of days before. You can find pictures of that on their blog.
L'Hermione arriving in port!
I should be used to the apathy of most of the American people by now, after all I am one and have been dealing with it for well over 40 years, but I am shocked at the relatively small turnout to greet her in Yorktown. Sure there were a lot of politicians there and a couple of other sailing vessels to great her, a few reenactors in historical period costume and there was a small crowd of people on the docks, but not...
The treasure of notorious pirate Captain William Kidd has allegedly been found off the coast of Madagascar.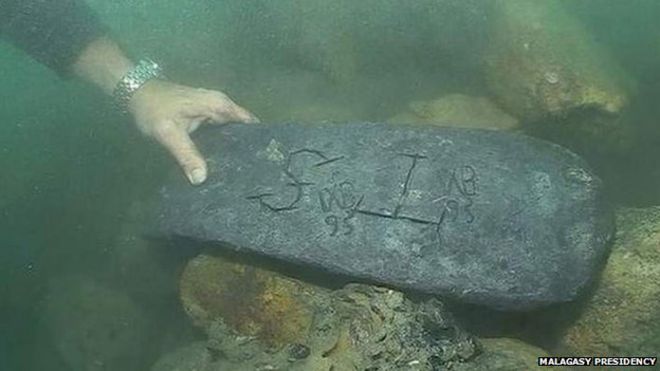 The
BBC reports
that a 50kg silver bar has been brought ashore by divers, thought to have been found amongst the wreckage of Kidd's ship. The bar has been guarded by soldiers in a ceremony to recognise the find, which was led by underwater explorer Barry Clifford.
Read more about William Kidd here:
http://en.wikipedia.org/wiki/William_Kidd
I have been chomping at the bit to see this movie ever since I found out about it. The original title for this film was
Battle of Myeongnyang
, which they should have kept in my opinion, but the film still works quite well under it's western title. The prospect of seeing Korean
Turtle ships
in action on the big screen had me very excited. I really do not know that much about Korean history, but I remember fighting Turtle ships while I was playing Age of Empires II. I always played as Vikings (I know all of you are absolutely shocked by this) and nothing could stand against my fleet of fully upgraded Viking longboats with fire arrows, except Turtle ships.
I pre-ordered the Blu-ray disk back in March and it finally arrived late last week, so I baked me a pizza Saturday night and put it in my Blue-ray player. The first thing that struck me was there was no previews,...
I don't cover pirate festivals around the US very often, mainly because there are so many of them and I just don't have the time. That is really unfortunate, because there really is some good stuff that we are just missing out on. One of the bigger ones on the East Coast of the US is held in Tampa Florida ever year, it is called the
Gasparilla Pirate Fest
and it is held in late January or early February every year. The festival honors
Jose Gaspar
, a pirate that supposedly plied his trade in the late 18'th and early 19'th centuries. I use the term supposedly because there has never been any solid proof that he ever actually existed, and some people consider him fictitious and made up simply as a reason for the festival. I have never written any stories about him for that reason.
That may be about to change however, as there has very recently come to...